KC Drilling & Blasting Ltd. was established in 1979 using the experience of founding team members in the field of rock drilling and blasting. We are proud to have served the Kootenay Region of British Columbia ever since.
In 2021, KC Drilling & Blasting was acquired by The Sutherland Group of Companies to complement its existing services in the forestry, transportation, and marine industries.
Experienced Team
Serving the Kootenays since 1979.
Safety Certified
BC Forest safe certified.
A Partner You Can Trust
Strong reputation for collaborating effectively with customers and partners.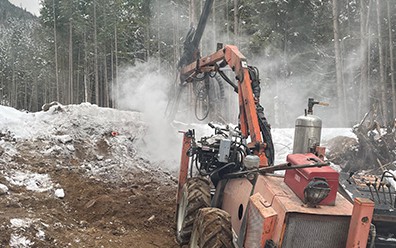 Since our inception, KC Drilling & Blasting Ltd. has provided drilling and blasting services throughout the province on a variety of projects.
Road Building, Construction, Kootenay Pass- avalanche containments, Highways elko corner, Highways Ymir corner, castlegar fire mitigation
Mica Creek Dam
Rogers Pass- East Portal
Castlegar-Fruitvale Trans. Line
Pedro Creek Substation
Nelson Dam – Div. Tunnels
Slocan Bluffs- Road Construction
City of Trail Water Treatment
Coquihalla Highway
Slocan Forest Products
Road Building
Kalesnikoff Lumber Co. Road Building
Corra Lynn Dam Upgrade
Castlegar Water Main
Construction
Nelson North Shore 10 Mile Road
Widening Kootenay Pass- Flood Project
Hugh Keenleyside Dam Upgrade-Pre shear
With over 40 years experience, we have built a reputation for providing reliable and efficient drilling and blasting services. Our equipment is carefully maintained and regularly updated to ensure optimal performance and safety.
Our team is highly trained and experienced in all aspects of drilling and blasting safety, from equipment handling to emergency response protocols. At KC Drilling & Blasting, we are committed to providing a safe and secure workplace for everyone involved in our operations.
At KC Drilling & Blasting, we stand for action and follow-through on promises made. We believe in measurable outcomes for our internal values. For that reason, we are proud to share our company-wide values with you, our community.
Curious & Adaptable
Encouraging curiosity and adaptability in our team members allows us to stay progressive and deliver unmatched value to our clients. Rigid, static practices have no place at The Sutherland Group, where innovation starts with the proactive search for a better way
Trustworthy
We strive to develop strong, long standing partnerships founded in trust with every one of our clients and team members. At The Sutherland Group we honour our commitments and aren't afraid to take ownership for any missteps. Each member of our team understands the importance of following through on commitments, staying true to our word, and being a dependable partner.
Humbly Confident
At The Sutherland Group we are confident in our knowledge of the industry and the intricacies involved in each of our offerings, but are humbled in the fact that while our teams are highly-skilled, we are all human and far from all-knowing.
Better Together
We know that the greatest and most rewarding success comes when we work together. As such, we are dedicated to maintaining ongoing teamwork across our network of companies to ensure the success of our organization, our team members, our partners, and our community as a whole.
Make It Happen
We are committed to delivering as promised, and through years of experience, we know that obstacles and setbacks are inevitable. At The Sutherland Group, we come with solutions and are expert problem-solvers. It's next a matter of if we will overcome, but how.